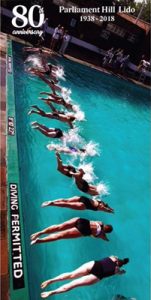 Vintiners in Crouch End have taken a liking to Ruth's images, often featuring them in their window. They print using watercolour paper and frame them beautifully (they are all limited editions and signed).
Ruth uses the wonderful Bayeux, in central London, for prints to sell privately and her current most popular images can be found below. To order a print please get in touch.
Ruth's images also feature on greetings cards, to buy any of these please get in touch. You can even have your business logo and/or a message printed inside.
LIMITED EDITION! Ruth's iconic image celebrating 80 years of the Parliament Hill lido is now available as a towel. Priced at £25, profits will pay for refurbishment of the photo panels on the wall outside. Contact Ruth to purchase one.